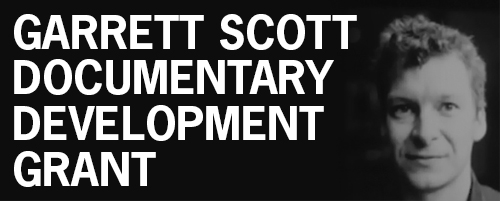 The Garrett Scott Documentary Development Grant funds first-time documentary directors for travel and accommodations to attend the Full Frame Documentary Film Festival. For four days, grant recipients are given access to films, panel discussions, and mentorship by experienced filmmakers. Recipients also present short excerpts from their works-in-progress at the festival.
Information about submitting for the 2017 Garrett Scott Documentary Development Grant will be posted soon. Please contact submissions@fullframefest.org with any questions.
We are proud to celebrate 10 incredible years of the Garrett Scott Documentary Development Grant. Watch this video highlighting the work of past recipients:
Garrett Scott made a distinctive mark in documentary during his short career. Without any formal training in film, he directed Cul De Sac: A Suburban War Story, examining the case of a methamphetamine addict who stole a tank from an armory and went on a rampage through the San Diego suburbs. The film prompted Filmmaker Magazine to cite Scott as one of 2002's 25 New Faces of Independent Film. Scott went on to make Occupation: Dreamland, co-directed with Ian Olds, about U.S. soldiers in Falluja, Iraq. It won prizes at Full Frame and the Independent Spirit Awards. Both films were broadcast by the Sundance Channel. In 2006, Scott died of a heart attack at age 37.
Scott's work examined how the forces of state power and economics impact individuals. Stylistically, his films broke convention, giving audiences new perspectives on familiar milieus like suburbia or war-torn Iraq. He was a beloved member of film communities in San Francisco and New York City and several points in between.
His friends, family, and colleagues established this development grant to help other emerging filmmakers reach their potential. The grant's selection committee looks especially for filmmakers who somehow fulfill Scott's example by bringing a unique vision to the content and style of contemporary documentary making.
The 2016 Garrett Scott Documentary Development Grant was awarded to Jonathan Olshefski for Quest: The Fury and the Sound and to Matt Yoka for Whirlybird. Previous grant recipients include James Demo (The Peacemaker), Lyric R. Cabral ((T)ERROR), Mike Attie and Meghan O'Hara (In Country), Ben Powell (BARGE), Jason Osder (Let the Fire Burn), Lotfy Nathan (12 O'Clock Boys), Katherine Fairfax Wright and Malika Zouhali-Worrall (Call Me Kuchu), Johanna Hamilton (1971), Rebecca Richman Cohen (War Don Don), and Robin Hessman (My Perestroika), among others.
Past winners have gone on to receive significant recognition, screening their finished works at Full Frame and other prestigious festivals including Sundance, IDFA, SXSW, Berlin, and Tribeca. In addition, recipients have won numerous awards and accolades, including the 2015 Full Frame Grand Jury Award, which was presented to Cabral's (T)ERROR, co-directed with David Felix Sutcliffe.
 "…the Garrett Scott Documentary Development Grant gave us an invaluable crash course that included conversations with veteran documentarians, sales agents, broadcasters, and distributors, while also giving us a fantastic first festival experience at one of the best documentary festivals." 
– Katherine Fairfax Wright and Malika Zouhali-Worral
(filmmakers, Call Me Kuchu)