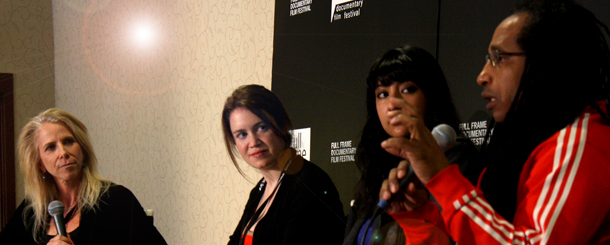 Full Frame is proud to present the A&E IndieFilms Speakeasy for the sixth year in a row. The new venue at 21c Museum Hotel hosts a number of panel conversations over the course of the festival that are free and open to the public. The Speakeasy offers a casual setting where a small audience can listen to industry leaders take on topics that are at the heart of the documentary community today.
The A&E IndieFilms Speakeasy feature spirited and engaging discussions and debates between professionals working at the highest levels, both on stage and with the audience. This not-to-be missed series of conversations takes place on Friday and Saturday at 21c Museum Hotel.
2016 Speakeasy Conversations
Beyond the Choir — Friday, April 8, 9:15 am
How do docs with a message reach the unconverted? Filmmakers discuss targeting their work for audiences with a wide range of views.
The New Theatrical — Friday, April 8, 12:15 pm
Distributors discuss methods, both new and traditional, to build audiences for documentary films.
The Glass Ceiling — Friday, April 8, 3:15 pm
Filmmakers weigh in on the challenges women face in the documentary industry, from gender bias to funding access.
#DocsSoWhite? — Saturday, April 9, 9:15 am
Is the documentary field more diverse than Hollywood? Directors address questions of representation and opportunity.
Watch the archived Periscope of this Speakeasy Conversation!
Watch Part 1 here.
Watch Part 2 here.
Perfect and Otherwise — Saturday, April 9, 12:15 pm
In this conversation around the 2016 Thematic Program, filmmakers reflect on the inherent drama of documenting the electoral process.
Watch the archived Periscope of this Speakeasy Conversation!
Slippery Truths — Saturday, April 9, 3:15 pm
Directors who blur the lines between art and artifice open up about their approaches and the constructions inherent in documentary work.